The DoSeum Children's Museum in San Antonio offers interactive exhibits designed to engage kids about concepts in science, math, art and literacy.
The highly-anticipated
DoSeum Children's Museum in San Antonio
will open its doors on June 6 with interactive exhibits designed to engage kids about concepts in science, math, art and literacy and encourage them to be creative and inspired. "Institutions of informal learning have a dramatic impact on kids in terms of their life-long attitudes towards these topics," says Vanessa Lacoss Hurd, DoSeum's CEO. The museum itself is a stunning architectural feat with over 26,000 square feet of indoor exhibit space and another 39,000 square feet of outdoor exhibit play space that boasts a giant treehouse. This state-of-the-art learning laboratory is ideal for young children up to 10 years old, and allows them to learn through play and fun problem-solving, hand-on activities. Featured exhibits include:
Little Town: This townscape is perfect for children as young as six months to five years of age. It includes a kid-sized bank, grocery store and food truck and allows toddlers to improve their motor skills and practice social skills in a town built just for them.
Spy Academy: Children are "recruited" into the world of intrigue! Here, they become master spies by making and breaking codes, using their spatial and geometry skills and applying logic and deductive reasoning to save the day.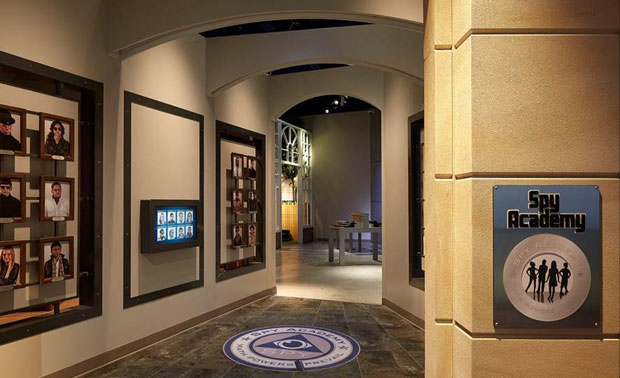 Sensations Studio: This exhibit is an art and science jam session where kids get to use everyday tools and objects to observe light and sound phenomena, play with light and mirrors and experiment with color.
Imagine It!: Kids get a chance to let their imaginations run wild by merging fantasy with creativity. This literacy-focused exhibit allows them to write, record and animate their own stories with stop-motion animation tools. Costumes, sensory surprises and a colorful landscape are all part of this creative thinking exhibit that supports language development, reading and writing.
Innovation Station: The purpose of this exhibit is to inspire kids to imagine, create and build. They are encouraged to use real tools to solve engineering challenges by designing and building bridges, programming robots, floating objects in columns of air and exploring the mysteries of magnets.
Explore: Children interact with maps, models and shifting scales in order to explore and discover how people live and work together and connect to the rest of the globe. They face real-world problems that help develop their critical thinking skills.
More info.
Facebook
Tweet
Linkedin
Pinterest
Google +
Interested in becoming a Contributor?